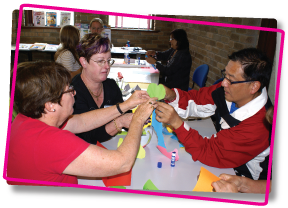 Kagan Cooperative Learning Australia provides teacher professional learning workshops in Cooperative Learning and supply teaching resources to educators throughout Australia.

We conduct a wide range of Kagan Cooperative Learning Courses
These courses will help teachers:
Increase student engagement in every lesson
Teach the way the brain best learns
Apply structure to learning experiences that lift academic achievement

News, News, News - just released

In Perth, WA in 2013

Information, flyers and registration forms for our courses are available to download.

Find a course near you.

What you will learn, our range of courses and course outlines. Registration, confirmation, cancellations, what to bring to a course.

Find out more about our courses and how you can attend a course.

Here it is:

News from around Australia and New Zealand,
New Cheers to generate fun and laughter in the classroom,
Our Teacher Hint - the Myth of Multi-tasking,
A letter from Christmas Island

Find out about hosting a Kagan training for your school or district. Our fees and costs are outlined and read about the Kagan Philosophy. If you still have questions, then find the answer in Frequently Asked Questions section.

Detailed plans for implementing the training are provided to assist principals and school leaders.

Find out about our accreditation status with the Institute of Teaching and how our trainers are accredited by Kagan USA. Meet the trainers and view our policies that support you as a participant in our workshops and a customer, including our Quality Guarantee.

Online Shop, Order Forms, Our Catalogue

Find out how to place an order, our payment details and ABN.

Browse our online catalogue, or download a catalogue, price list and school or personal order forms.

Here is the Special of the Month.

We all love a bargain so why not check it out. It may be just what you are looking for to help you increase student engagement in your classroom.

Here's a collection of practical tips, posters and articles to improve your teaching. You'll find ideas and blacklines to make your class more effective.

Have a look at our collection of material or send us an email to request help or share your great ideas.

Read evaluations, letters and comments made by participants, teachers and principals.

Browse our photo gallery to see participants enjoying our dynamic and interactive workshops.

Join Us On Facebook

We have lauched our Facebook page. Follow Kagan Australia on Facebook. We'll tell you about new courses, teacher tips, competitions and lots, lots more. we will soon have a link to our Facebook on this site.