Lesson Planning Using Kagan Cooperative Learning Structures
Lesson Planning Using Kagan Cooperative Learning Structures
Do you want to get the most out of cooperative learning and learn to plan exciting, multi-structured lessons? This is the course for you! For All Years K-12.
NEW COURSE!
If you have attended Kagan Cooperative Learning courses and would now like to go to a much higher level of implementation – this is the course for you!
Do your students run into class excited about learning?
Are the parents of your students telling you that you hav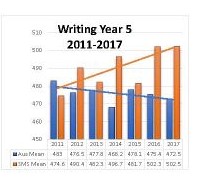 e ignited the fire of learning for their children?
Do your academic and NAPLAN results look like this graph?
Course Focus
This course will focus on planning multi-structured cooperative learning lessons using literacy as the content.
Teach spelling, vocabulary, grammar and writing in an exciting, student-centred, engaging classroom.
Engage and have success with even the most reluctant writers.
Make each stage of the writing process more engaging and effective with interactive learning strategies.
Workshop Highlights
Learn to plan sequential lessons that develop literacy, vocabulary, grammar and punctuation that are fun and engaging using Kagan Cooperative Learning structures.
Learn the 5 stages of vocabulary development and incorporate these into your lessons
Develop sequential writing lessons that address the key elements of audience, idea development, spelling, grammar, vocabulary and paragraphing
Experience lessons that are based on eight Kagan Structures Fan-N-Pick, Find Someone Who, Mix-N-Match, Quiz-Quiz-Trade, RallyCoach, Sage-N-Scribe, Showdown and Think Write RoundRobin. These structures incorporate pair work,teamwork and whole-class interactions.
Participants will receive a series of model lessons that they can adapt and use immediately in their classrooms
Course Materials
Course handout
Cooperative Learning and Literacy book
Prepared lesson plans and powerpoints ready for implementing in your classrooms. Some of the lessons include Synonyms, Antonyms, Collective Nouns, Adverbs, Adjectives, Homophones. There are 13 topics with prepared Kagan Cooperative Learning lessons for you to implement.
Recommendation from our trial School
"Brilliant! This needs to be every school's writing, spelling and vocabulary program. Motivational, engaging and practical. All children, even the most reluctant writers were enthusiastic and completely engaged. To have a program where we saw so many improvements was amazing! Awesome structures complemented all the activities! At a district moderating session, other teachers could not believe the level of achievement in the samples of Year 2 writing – most thought it was Year 4, Can't talk highly enough of this program." Clare, Assistant Principal, NSW