Emotion-Friendly Teaching
Make your classroom more emotion-friendly! The emotion-friendly classroom is a far more effective approach for reaching the five goals of Social-Emotional Learning. Instead of learning about positive social and emotional behaviors, students acquire these skills as part of every lesson. With emotion-friendly teaching, students have a greater understanding of their own emotions, become more skilled controlling their impulses, are better at motivating themselves, become more empathetic, and improve their social skills and relations as they interact over the regular academic curriculum—no separate lessons are required. Explore Dr. Kagan's Emotion Wheel, a visual tool to help students understand and take control of their own emotions. Harness the power of student emotions to improve every aspect of your classroom from academic success, to class management, to improved student relations.
We can align the theory and research on emotions into a practical guide any teacher can use to make their teaching more emotion-friendly. In our uncertain times, with COCID-19, droughts, bushfires, floods and less face-to-face teaching and learning, this is an outstanding course to gain skills to support our students.
You Will:
Learn how eliciting positive emotions boosts student achievement, do's and don'ts, ready-to-use student activities, and practical, simple and easy to implement tips to put students in the optimal emotional states for learning. Learn how to teach with the Emotion Wheel, a student-friendly way to help our students understand and manage their own emotions.
Learn why EQ can be more important than IQ to students' success.
Experience this practical guide to developing the facets of EQ, including student self-knowledge, self-control, motivation, and empathy. And last, but definitely not least, we learn how to evoke emotion when we teach to make learning more meaningful and memorable..
Description
Days 1 and 2 Workshop (All Years)
You will learn:
Kagan Structures to refine and expand student's social learning
Use of the Kagan Wheel to help students identify, understand and manage emotions

Workshop Highlights
Radically reduce disruptive behaviour, bullying, and violence
Promote relationship skills and empathy for others
Learn how to leverage emotions to increase student self-motivation and achievement
Improve class climate and raise students' IQ by eliciting positive emotions
Teach students to understand and manage their emotions with the Kagan Emotion Wheel
Learn about and how to use the 10 Positive Emotions
A. Structures to elicit:
Happiness
Gratitude
Amusement
Playfulness
Curiosity
Optimism
Inspiration
Belonging
Love
Serenity
B. Understand and use the Kagan Emotion Wheel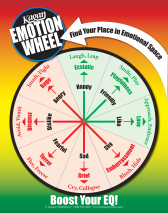 Understand the 8 key concepts
Learn how to present the Emotion Wheel to students
Experience structures to have students master the Emotion Wheel
Engage all your students throughout each lesson with NEW cooperative learning
Understand the continuum of emotions
Explore the variety of continuums and emotion intensity
Categorise emotions that enhance or inhibit learning
Analyse body language and emotion
Brain Research related to Positive Emotion
Learn about the benefits of eliciting positive emotions
Improve test scores
Broaden thinking
Promote problem solving
Improve learning & memory
Increase creativity
Broaden perception
Increase achievement
Dimensions of Emotion
A. Understand the 5 dimensions of EQ
Self-Knowledge
Self-Control
Self-Motivation
Empathy
Relationship skills
B. Explore the links between EQ and the Emotional Wheel
C. Experience Structures to foster each of the 5 dimensions of EQ