Win-Win Discipline™
Day 2 Workshop
Description
Go beyond the basics. Practice and master a range of step-by-step Win-Win Discipline structures and strategies. Explore a world of methods to create a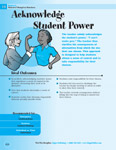 collaborative community of learners—each one working to make class "the way we want our class to be." Discover fresh discipline structures to implement the three pillars of Win-Win Discipline and discover how easy it is to convert disruptions into learned responsibility. Go beyond the basics in recognising, understanding, and responding to the seven student positions. What do participants say? "I now view my disruptive students in a totally different way. Finding win-win solutions is now easy."
You Will Learn:
Learn the Win-Win Discipline Basics
Adopt the Win-Win philosophy: You win, and your students win
Convert disruptive positions to "Positive Positions"
Analyse at the individual and class levels
Tailor responses to both behavior and position
Maintain control while fostering student dignity and responsibility
Identify the ABCD's of Disruptions
Aggression—Treat different types of aggression appropriately
Breaking the rules—Clarify rules, create buy-in
Confrontational behaviors—Side step the power play
Disengaged students—Create engagement through sure-fire structures
Know Just What to Do When a Student...
Displays aggressive behaviour toward another student
Confronts you
Breaks the rules
Withdraws
Clowns around; distracts your class
Make Teaching Fun & Rewarding
Focus on teaching and learning, not on managing and disciplining
Make the most of your time in class
Create a safe, comfortable learning environment
Feel rewarded after each day, not stressed out
Don't let disruptions drag you or your class down
Use Successful Intervention Strategies
Learn nonverbal, verbal, and action strategies for intervening with each type of disruption
Learn the 7 'best-ever' discipline strategies
Know when to use each strategy, and when to avoid a strategy that will 'backfire'
Prevent Disruptions for Good
Select appropriate long-term interventions to prevent disruptions
Balance curriculum, instruction, and management
Examine your leadership and relationship style
Create a positive classroom community
Establish alliances with parents and community
Arrange or Attend a Workshop
Call Kagan Australia today to scedules a workshop and bring a Kagan Australia trainer to your school. Phone 02 49824511 or email training@kaganaustralia.com.au
Or find a course near you. Find courses at Upcoming Events